If you grew up outside of the Philippines like I did, you probably don't know much about Filipino wedding traditions or where to even start. But not to worry. With weddings, there are tons of ways to pay a nod to your Filipino roots while keeping it simple, beautiful, and hella meaningful.
While Jérôme and I were planning our wedding in Toronto, we both knew we wanted to incorporate Filipino elements into our day. As I was researching online for inspiration, all the suggestions I found just didn't feel right. Filipino weddings tend to be large and lavish affairs, and Jérôme and I wanted our wedding to be small, intimate, and non-traditional.
We were married in June, and the whole day just felt extra meaningful because of the cultural elements we built into it.
We reached out to our Sinta community and asked for their ideas, as well as took inspiration from our own wedding. Here are our favourite Filipino wedding traditions for the non-traditional couple!
1. Incorporate Filipino Wedding Accessories
On our wedding day, I loved showing off my jewelry and wedding accessories designed and handcrafted in the Philippines. I got a ton of compliments, and it meant a lot that I could proudly tell them that my pieces were made by Filipino artisans!
I am a huge advocate for purchasing fair trade and ethically made pieces by artisan communities in the Philippines. 
The AMAMI Heritage Collection is the perfect way to add some Filipino style to any wedding! 
Unfortunately, the AMAMI Heritage Collection wasn't available for our wedding, but I would definitely have chosen it. Handcrafted in gold filigree by Filipino plateros from Ilocos Sur, every AMAMI piece showcases a pre-colonial technique of jewelry making that existed in the Philippines long before the arrival of the Spanish. And the best part? These pieces are absolutely stunning.
Is there a better way to add Filipino style to your wedding? 

These earrings have been handcrafted from sustainably sourced capiz shells and hand-cut by artisans in Cebu.
Pictured above: The Gunita Shell Clutch made from sustainably sourced and organic shells from the islands of Cebu.
2. Bring The Candle, Cord, Veil, and Arras Into Your Ceremony
The ceremony is my favourite part of every wedding, and bringing The Candle, Cord, and Veil is the perfect way to pay respect to your Filipino culture. I love this Filipino tradition because each element has strong symbolism behind it, and it's also a nice way to involve the most important people to you within your ceremony.
Traditionally in Filipino culture, the ceremony is very religious and the Candle, Cord, and Veil are no different. For our wedding, we had a non-religious ceremony and asked our officiant to develop a special script for us. He was happy to oblige and our guests loved it (Click here for inspo for alternative scripts). 
The ceremonial coins (known as the Arras) are also often incorporated into Filipino wedding ceremonies. Traditionally, they are given by the groom to the bride to symbolize his commitment to providing for the family. For Jérôme and my wedding, we took turns gifting the coins to one another, representing both of our promises to build a future together.
Many of our friends and family (both Filipinos and non-Filipinos) commented how this part of the ceremony felt so meaningful for them.
3. Incorporate The Sampaguita
The Sampaguita is also known as 'Philippine jasmine', and is the national flower of the Philippines. It's considered a symbol of fidelity, purity, devotion, strength, and dedication - all perfect symbols to make your wedding even more meaningful.
There are a ton of ways to incorporate this beauty into your wedding. Sampaguitas are simple yet distinct, making it the perfect addition to your bridal bouquet or centerpieces. Before blooming, the Sampaguita is made of beautiful white buds that make gorgeous garlands, whether for your aisle runners or hanging. It's also know for its distinct fragrance, so you'll love the smell as much as its look, too.
Serge Igonia / Via sergeigonia.com via Buzzfeed
4. Dress in style with the Barong Tagalog
You've probably seen photos of the Filipino barong at some point in your life, but we can't stress enough how beautiful the barong is in real life and just how perfect it is for a Filipino wedding. Made of delicate pineapple fibers, the barong has seen a revival amongst Filipino millennials over the years as young brands like Pineapple have popped up, trying to inspire more people to tap into their roots through the barong.
A wedding party in Richmond, Virginia styled in barongs by Pineapple Industries. Photo by Valerie Demo
Though traditionally made for men, barong dresses have become more and more popular too, which we think is a good thing because these garments make drop dead gorgeous bridesmaid dresses.
Barong dresses have become increasingly popular and make unique bridesmaid dresses. Here's Rachelle Ocampo wearing the Rachelle barong by Pineapple Industries on the streets of New York City.

4. Do The Filipino Money Dance
The Money Dance is a fun and interactive way to add some Filipino elements into your wedding! Usually held at the start of the evening to open up the dance floor, the guests all take turns dancing with the newlyweds. As the guests dance, they pin money onto the couple.
It's a great way to get your guests dancing, while the money the couple receives is seen as good fortune and a contribution towards their financial future.
5. Embrace Filipino Words
Whether you speak Filipino or not, there are easy ways to incorporate the language into your wedding day. That could mean saying a small part of your speech in Filipino, playing some Filipino music (check here for inspo!), or just finding creative ways to bring in Filipino words,
While Jérôme and I planned our wedding, we toyed around with the idea of using beautiful Filipino words as our table names rather than normal table numbers. We also thought of having coasters (our wedding favours) engraved with Filipino words on one side and French on the other (since Jerome is French-Canadian). There are tons of possibilities, so get creative!
For our wedding, my sisters also surprised us by doing a live rendition of Ed Sheeran's Perfect in English, Tagalog, and French!
6. And Lastly, Serve Filipino Food!
Is there any doubt this would be on our list? The possibilities are endless when it comes to Filipino food, whether your wedding is high-end and big, or small and intimate. We've even heard of people hosting kamayan weddings (where the food is beautifully laid out on banana leaves and guests eat with their hands). 
The Kamayan phenomenon is not technically an age-old Filipino tradition and is more of a recent trend originating from Filipino chefs in the US, but so what?! And if kamayan isn't your style, then opt for a simple menu of Filipino staples.
Our wedding menu was a fusion between Filipino, Québécois, and Vietnamese cuisines. Pictured here is barbecue chicken inasal and sinangag (Filipino fried garlic rice).
Jérôme is French-Canadian from Quebec and we got engaged in Vietnam, so we worked with a caterer who could compose a fusion menu of Filipino, Quebecois, and Vietnamese cuisine. So don't be afraid to get creative and do whatever you want - it's your wedding day!
---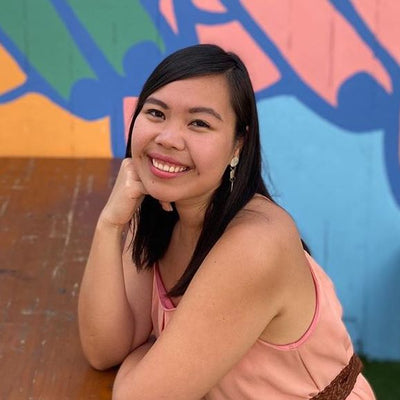 Gelaine is a social entrepreneur, an online storyteller, and a passionate advocate for diversity and ethics in business. She's the co-founder of Cambio & Co., an e-commerce fashion company working with Filipino artisans to celebrate Filipino craftsmanship, culture, and heritage. Gelaine is also one of the founders of Sinta & Co., the world's first conscious Filipino wedding boutique. She was named one of RBC's Top 25 Canadian Immigrants of 2019. Find her on Instagram @gelainesantiago and www.gelainesantiago.com
---