For many, planning an intercultural wedding can be daunting. 
How do you reconcile where you and your partner have each come from with who and where you are today? How do you share your identity as a couple while celebrating the stories of your families and cultures?
For Maria and Danny Forlini, planning a wedding wasn't easy, but they took it on with a full heart and a clear sense of what was most important: family, authenticity, and fun. 
The two celebrated their relationship on August 19th, 2017 in a small and intimate wedding in Montreal. The wedding featured a gorgeous colour palette of pale greens, blush pinks, coppers, and metallics. 
Although their big day was already two years ago, Maria and Danny still vividly recall the love they felt, surrounded by thirty of their closest friends and family, and how connected they were to one another's cultures and roots.
The Wedding At A Glance:
After an unsuccessful attempt to source a Maria Clara Filipiniana inspired wedding gown, Maria's mom made her dress instead and used the fabric remnants to craft the ring pillow and Unity Coins (arras) pouch.

Maria and Danny incorporate the veil, cord, and arras into their ceremony. The Unity Veil was the same one from Maria's parents' wedding, but trimmed with new lace and sequins from her grandmother's wedding gown.

They paid homage to Danny's Italian roots with an Italian song for their first dance.

Maria incorporated a Spanish/Filipino tradition to commemorate her late father's grave and made it her own.

The edible wedding favours were special polvoron, handmade by the bride herself!
A Tale Of Two Cultures 
Maria is Filipino and Danny is Italian. Danny's parents immigrated to Canada from Italy in the 60's, and he was born and raised in the Notre-Dame-de-Grâce neighbourhood of Montreal, where the couple now lives. 
Maria was born in the Philippines and grew up in Las Piñas and Alabang until she was 18. Eventually, they all moved to Vancouver, BC.
Her father is from Bicol but grew up in Quezon City, and Maria's mom is from Manila. Her parents were both educated in the American system in the Philippines where speaking Tagalog was frowned upon and even punished. Her family grew up mostly speaking English (and some Tagalog) at home.
On her relationship to being FIlipino growing up, Maria says:
"I think that for me, my relationship to being Filipino is intertwined with my relationship with language… We spoke mostly English at home when I was growing up. And yet, as I wrote in this essay  a few years ago, when we first arrived in Canada, I was dismayed to find that people couldn't understand me when I spoke. So I decided to sanitize my accent until I could pass for being "Canadian-born" or at least, Canadian-raised.

My parents also encouraged my siblings and me to embrace the Canadian way of life, which I did -- only realizing much later that it was to the detriment of the Filipino side of me. Today, I am both proudly Canadian and proudly Filipino. This was why it was so important to me that my wedding reflect my heritage."
"I think I'm the first Filipino my husband got to know well! It's fun introducing each other to all the facets of our respective cultures." 
The Wedding
On why they wanted to celebrate each other's Filipino and Italian heritage on the wedding day:
We wanted our wedding to reflect a union of both our cultures. We are both Canadian but with roots in other places and I think it was important for both of us to remember and honour those roots.
On the importance of family and tradition:
Family is very important to both of us. I think this is why we were both content with having "just" our parents, our siblings and their families at the wedding -- with all of us together, it already feels like a party. 
Also, between the two of us, we had 8 nieces and nephews at the time of our wedding, ranging in age from 25 to 1, and we both wanted all of them to be involved, to have some part to play. They were our lectors, our flower girls, our ring and coin bearers.
We are also both very traditional, and we know a priest whom we respect and have great affection for. It meant a lot to us to have him as our officiant. We chose the readings and songs for our wedding Mass and wrote some of the prayers.
Danny likes to collect Italian bicycles so they used the image of a tandem bicycle on their wedding invitations. The cake topper and souvenirs were also in the shape of a tandem bicycle.
On capturing the right vibe and atmosphere:
People who see us together say that they can really feel the love, that they like being around us because we are always happy to be together, always laughing. We wanted this to come through on our wedding day. 
Also, since family is so important to both of us, we wanted our wedding to be an intimate affair, with many personal, meaningful, and hand-done details. We tried to do as much of the prep ourselves as we could, and to turn to local and small businesses for the things we had to outsource.
On the ways they incorporated Filipino heritage and culture at the wedding:
I really wanted a Maria Clara inspired wedding dress, but I couldn't find any local sources and it soon became clear that having it made in the Philippines and coordinating it long-distance would be too time-consuming and stressful. So I decided to ask my mom to make my dress, and it turned out beautiful and even more meaningful in the end. She was also able to make the ring pillow and arras pouch out of the fabric remnants.
My favourite part of Filipino weddings has always been the veil and cord ceremony, so of course I had to have it in my own wedding. A friend of mine bought me a double rosary chain in the Philippines to use for the cord, and I asked my mom if I could use the veil she and my dad used at their wedding. I trimmed it with new lace and sequins from my grandmother's wedding gown.
Another Filipino wedding tradition is the arras. I used antique Spanish gold coins that my great-grandmother had passed down to my mom.
I baked a variety of edible goodies to fill the bonbonnière boxes, including my special polvoron, which I normally make only for Christmas. It was a lot of work but at the same time really fun to put it all together.
Last but not least, it's a Spanish/Filipino tradition for the bride to leave her bouquet at the church as an offering to the Virgin Mary after the wedding. I wanted to leave my bouquet at my dad's grave, so as a compromise I had a special bouquet made for my offering to the Virgin.
On the top three moments of their wedding day:
Maria: "My most memorable moment of the entire night was when we had our first dance to our song, Ti Amo. I've never felt happier or more loved."
Danny: "When I saw Maria come up the aisle towards me between both her brothers, I felt so happy I cried."
The wedding day generally went smoothly, but one thing that didn't go as planned was the car we had hired for Danny to drive us to the reception. The deal fell through and he ended up having to take his own Jeep, which in the end felt so much more appropriate because that was the vehicle he used on our first date. He decorated it for the ride with some white flowers and ribbons and it looked awesome. Strange as it may seem, driving in the Jeep as a married couple turned out to be one of our favourite moments of the whole day.


On their favourite wedding details and what made them so meaningful:
The dress - After my mom agreed to make the dress, I saw a simple, fit-and-flare, ankle-length dress online and ordered it. It cost about $100.00. My mom deconstructed it and used the pieces as the basis of a pattern for me. We selected the fabric together, another $400 or so, and she made the dress. It didn't cost a lot as far as wedding dresses go, but at the same time it's priceless.
The cake - Danny and I both love cheesecake, so my sister made us a double-tiered cheesecake wedding cake, which is not something you can easily get from a commercial bakery. We were very honoured that she did this for us, especially since she lives in the States and flew in with the cakes in her hand-carry.
The bonbonnières - I worked really hard on them! 

On how they chose their wedding song:
Ti Amo, an Italian song that we danced our first slow dance to at Danny's cousin's wedding. It's our go-to slow-dance song.
Their advice for other couples who want to incorporate their Filipino culture/ heritage into their wedding:
Think about what's truly meaningful for you, and try to bring old traditions to life in ways that are creative and fun and in sync with your own personalities.
What details from Maria and Danny's wedding called out to you most? 
Have your own Filipino wedding to share? Submit your Filipino Love Story here  and you could be featured on the Sinta & Co. blog!
Wedding Vendors (Not all inclusive)
Photographer: Amanda Amato
Bride's Attire: Wedding dress handcrafted by the bride's mother, fabric purchased at Tissus St. Hubert.
Bride's veil is made in Spain. Bride wore her mother's jewellery (earrings and pearl necklace). The silk flowers in the bride's hair were purchased from  PrettybySusanJewelry. 
Groom's Wedding Attire: Verri Uomo Montreal, shoes from The Bay, bespoke necktie by Handsome and Lace. 
Florals: Fleuriste Jardin Alex -- Place Alexis Nihon
Cake: Bride's Sister
Stationery: Invitations made by Bride's sister, thank you cards from Anthropologie
Favours: Edible favours handmade by the bride and her sister; Ladies' favours made by the bride's friend and sister-in-law; Men's favours from TheBlushMarket 
Wedding Party Attire: Verri Uomo Montreal and ModCloth.com 
Hair: Melissa Roy, Pure Salon 
Makeup: Marcela Hernandez, Nars Cosmetics 
Ceremony Venue: The Lady Chapel, St. Patrick's Basilica
---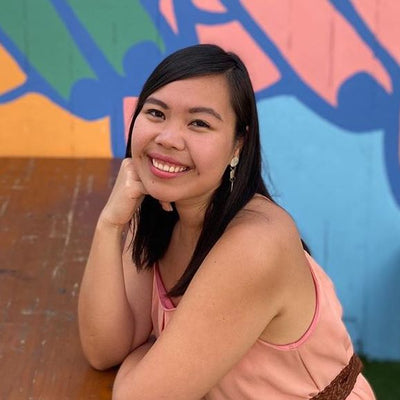 Gelaine is a social entrepreneur, an online storyteller, and a passionate advocate for diversity and ethics in business. She's the co-founder of Cambio & Co., an e-commerce fashion company working with Filipino artisans to celebrate Filipino craftsmanship, culture, and heritage. Gelaine is also one of the founders of Sinta & Co., the world's first conscious Filipino wedding boutique. She was named one of RBC's Top 25 Canadian Immigrants of 2019. Find her on Instagram @gelainesantiago and www.gelainesantiago.com
---