This article on planning a Filipino wedding reception is brought to you by POC Wedding Party — a collective of creatives and vendors bringing "Family Party Weddings" to the Bay Area!
Filipino weddings are known for their rich cultural traditions that have been passed down through generations. While these customs hold sentimental value, you may be looking to infuse your wedding, from the marriage ceremony to the reception party, with a modern touch that truly reflects you and your partner.
To some young couples, incorporating all of the traditional aspects of a Filipino wedding can make the day feel stiff and formal; they tend to prioritize the overall experience and just having fun!
Our all-women of color event-planning team at POC Wedding Party is here to share 7 creative ways to modernize Filipino wedding traditions, allowing couples to embrace their heritage while adding a contemporary and personal twist to their reception.
1. Opt For A "Family Party Wedding" Vibe For Your Filipino Wedding Reception
We believe that weddings don't need to be so stuck in formality and tradition for them to feel special and celebratory.
POC Wedding Party's founder, Gina Rosales, says her first introduction to a successful "community event" was at family parties. Filipino parties are so open, welcoming, and filled with delicious food and drinks. These gatherings were more casual and focused on free-flowing movement. 
An example of how POC Wedding Party creates this vibe for a wedding reception is through Food Stations or Food Trucks, instead of a formal sit-down dinner. Guests are free to "choose their own adventure" — they can eat, drink, dance, and move from table to table! No getting stuck at a boring dinner table all night.
2. Book A Non-Traditional Venue That Can Transition From Your Marriage Ceremony To A Filipino Wedding Reception
While traditional Filipino weddings are often held in churches, couples today are choosing alternative venues that better reflect their personalities. POC Wedding Party has partnered with several amazing venues around the Bay Area to help set the vibes for your "Family Party" style wedding.
From a design-centric creative studio like Ciel Creative Space (Pinay-owned!) to a beautiful redwood amphitheater at Piedmont Community Hall, there are so many non-traditional venue options out there to use creatively.
And if you want to avoid a traditional ceremony and reception entirely, think about hosting your wedding at a local bar or restaurant that already serves amazing food, like San Francisco's Pinay-owned Victory Hall. Often restaurants with talented chefs will be open to customizing the menu for the night to suit your cultural influences.
3. Decorate Your Filipino Wedding Reception With Traditional Filipino Materials, Tropical Florals, and Modern Touches
For your own island oasis, POC Wedding Party partners with florists that design with heavy influence from their heritage. Diosa Blooms and Nurture State often use tropical flowers and greenery to bring the essence of the Philippine Islands to your wedding venue.
You can also enhance your reception decor by blending traditional elements with contemporary table settings. Filipino culture invites us to connect with each other around the dining table, this is an opportunity to bring your guests closer to the Philippines.
Opt for a modern centerpiece featuring native materials such as rattan or capiz shells, combined with sleek tableware and minimalist design. This fusion will create a visually stunning ambiance that merges heritage and modern aesthetics seamlessly.
4. Customize Traditional Filipiniana & Formalwear For Your Filipino Wedding Reception
Photo by Jenny Roso for Silviyana
Filipino weddings are famous for their elegant Barong Tagalog and Filipiniana gowns. To add a contemporary twist, couples can consider customizing their attire.
You can experiment with different fabrics, colors, and designs to create a modern interpretation of traditional garments. Imagine a sleek terno jumpsuit or an all-black Barong Tagalog.
Another way you can add a personal touch to your wedding attire is through special details, like Baybayin embroidery or heritage jewelry, to make it truly one-of-a-kind.
Here are a few Filipiniana and Filipino formalwear vendors we want to shout out:
5. Put A Modern Twist On The Entertainment & Music At Your Filipino Wedding Reception
Liven up your reception by a live band or DJ who can infuse modern beats into Filipino musical classics.
Someone like DJ heyLove would be fun. Her broad taste in music means she pulls from all kinds of genres, from radio hits and R&B classics to jazz and hip-hop. Everyone from your Titas to your youngest Inaanak is sure to enjoy the dancefloor.
Another way to go is through dance. Entertain your guests with dance performances that blend Filipino folk dances with modern styles. Then finish it off by asking your loved ones to join you in a money dance!
We all know though, that if you really want to embrace the family party vibe, karaoke station is where it's at!
6. Serve A Feast Of Fusion Cuisine At Your Filipino Wedding Reception
Filipino cuisine is diverse and delicious, but you can add a contemporary twist to the traditional wedding feast through culinary fusion.
Collaborate with a talented caterer, like Pinay chef Cleodia Martinez of Midsummer Kitchen, which has catered for events and experiences of all sizes through their wide range of culinary skills.
You can add an extra special touch by making it interactive. For example, the Bay Area's own Roline's offers a signature Halo Halo Bar with classic and innovative flavors.
Marrying someone who isn't Filipino? Work with your catering team to build a menu with a fusion of flavors that speak to all the cultures you're representing.
7. Indulge Your Guests With Signature Desserts and Sweet Treats At Your Filipino Wedding Reception
Not really a cake person? No problem. Crack open your family recipe book for beloved treats and enlist your Titas to make small sweet bites for your dessert bar.
If you still want to have a cake-cutting moment with your new spouse, you can opt for a small ube-flavored "cutting cake" by Sweet Condesa Pastries, a Filipina-owned pastry business that blends traditional Filipino flavors with contemporary presentation.
Photo by Come Plum & Khariza Rae
By incorporating these modern twists into Filipino wedding traditions, you can create a wedding celebration that pays homage to your heritage while reflecting your unique style as a couple.
Remember, the key is to find a balance between the old and the new, respecting the traditions that hold meaning while embracing the opportunities for creativity and personalization. Let your wedding day be a beautiful blend of tradition and modernity that you and your guests will cherish forever.
If you're based in the California Bay Area, consider hiring
POC Wedding Party
to curate your wedding day experience!
Want more resources and tips like these to plan your Filipino wedding? Subscribe to our email newsletter below.
---
Gina Mariko Rosales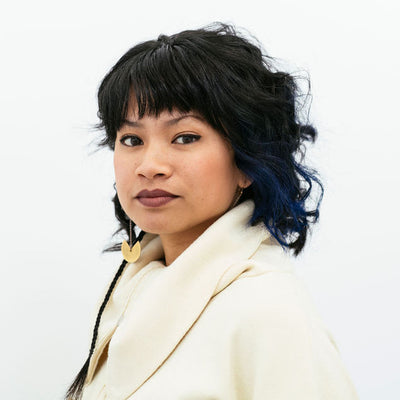 Gina Mariko Rosales is the Founder & Chief Experience Officer of Make it Mariko, as well as the Co-Creator of multiple businesses and cultural organizations like POC Wedding Party, UNDISCOVERED SF Filipino Creative Market, Pinayista, Balay Kreative, and the soon to launch POC Food & Wine Festival.
---